Bailey Siegel - Senior Account Executive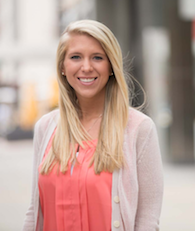 Bailey Siegel is a Senior Account Executive at DCG with experience providing account support to several key industry, private and public sector clients via materials development and content creation, stakeholder outreach, conducting qualitative and quantitative analysis and research studies and project management.
Her current client work includes the Blue Campaign, the Department of Homeland Security's (DHS) human trafficking awareness and public education campaign and the Department of Veteran Affairs Mental Health Services, which focuses on improving healthcare and health-related opportunities for Veterans, Service members and their families.
Prior to joining DCG, Bailey worked at Porter Novelli's Washington, D.C. office. She primarily supported public and private sector awareness and behavior change campaigns in the financial space, addressing topics such as investment fraud (U.S. Commodity Futures Trading Commission) and retirement security (Indexed Annuity Leadership Council).
A native of Northern Virginia, Bailey returned to the Washington D.C. area after graduating from The Pennsylvania State University with a bachelor's degree in public relations and a minor in psychology.