Hannah Webster - Senior Account Executive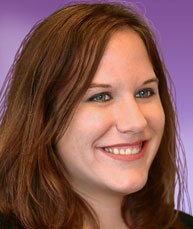 Hannah Webster is a seasoned communications professional with experience in project management, strategic communications, social media outreach, and web site support. With The DC Group, she currently supports our federal contract with the U.S. Department of Veterans Affairs' Mobile Health initiative, which promotes Veterans health and wellness through the use of mobile technologies.
Before joining The DC Group, Hannah worked for three years as a contractor with Dynamics Research Corporation. Most recently, she supported the Defense Centers of Excellence for Psychological Health and Traumatic Brain Injury (DCoE) as a research analyst on a contract for the Development and Identification of Best Practices for mental health care in the military. This versatile role required extensive research, writing, and editing as well as the ability to juggle high-priority deadlines in multiple work streams. Prior to this role, Hannah served as the Deputy Communications Project Manager on an internal communications contract within the Veterans Health Administration's Office of Health Information.
Previous work experience includes two years as a legal assistant at a law firm in New Orleans that handled property damage claims related to Hurricanes Katrina, Rita, and Wilma, where her responsibilities included discovery research, outgoing communications, and serving as the client point of contact.
Originally from Roswell, New Mexico, Hannah holds an MA in Communication, Culture, and Technology from Georgetown University and a BA in English Literature from Loyola University New Orleans.