Janis Hall - Account Coordinator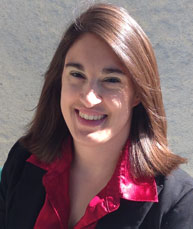 A skilled communicator and researcher, Janis Hall currently supports multiple accounts at The DC Group, including the U.S. Department of Veterans Affairs' Ending Veteran Homelessness Initiative and Make the Connection, an online tool that connects Veterans with resources and solutions to issues affecting their health and well-being.
Janis' prior work experience includes conducting research for The Institute for Justice, a non-profit, issue-driven law firm. She has also worked for political campaigns, a logistical shipping company, and assisted with research on Dr. Abraham Sofaer's book Taking on Iran. Once a week, Janis is a guest on an internet radio show called The Exceptional Conservative Show where she talks about international news of the day and foreign policy implications.
Originally from the San Francisco area, Janis has a Master's of Public Policy, with a specialization in foreign policy and economics, from Pepperdine University and an undergraduate mathematics degree from the University of Nevada, Reno. In her free time, Janis enjoys staying active by running and skiing and was even a ski instructor one winter.