Myriam Benlamlih - Senior Research Manager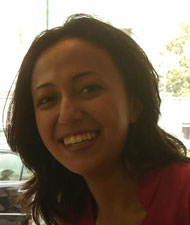 Myriam Benlamlih is a seasoned researcher with more than ten years of experience in international and marketing research. She is currently leading the technical elements of The DC Group's public diplomacy impact project with the Department of State.

Prior to joining The DC Group, Myriam spent three years at InterMedia Survey Institute, where she led a variety of monitoring and evaluation research projects related to international development, public diplomacy, Information and Communication Technologies for Development (ICT4D), counter-terrorism and private-public health initiatives. She specialized in multi-country studies among a number of populations, including those in Afghanistan, Iran, Turkey, Chad and the Democratic Republic of Congo.

Myriam began her international research career at Procter & Gamble, Morocco, where she specialized in adapting qualitative and quantitative research methods to illiterate populations in deep rural areas. Her creative research techniques informed winning marketing strategies that helped grow company revenue for home care and health and beauty products.

Most recently, Myriam was with Capital One Bank, where she specialized in agile research methods that provided quick and reliable consumer insights to her business partners.

Myriam has a double Master's degree in Global Media and Communications from the London School of Economics and the Annenberg School for Communication in Los Angeles. She speaks fluent French and Spanish and conversational Arabic.